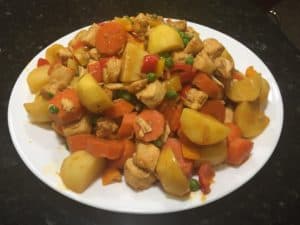 Recipe Card v1.0
Ingredients
1.1 lbs chicken, cut into serving pieces
3 pieces potatoes, chopped
2 pieces carrots, chopped
4 pieces sweet peppers, sliced
1/2 cup green peas
2 tablespoon vegetable oil
1 cup water
Step-by-Step Directions
Preheat pan for 2 minutes using medium heat.
Add vegetable oil, heat for 2 minutes.
Add chicken, cook for 25 minutes, stir occasionally.
Add carrots and potatoes, cook for 6 minutes.
Add water and Mama Sita's Afritada Mix.
Add sweet pepper and green peas, then;
Put cover and simmer for 5 minutes.
Serve hot.
About Author