Shrimp Fettuccine Alfredo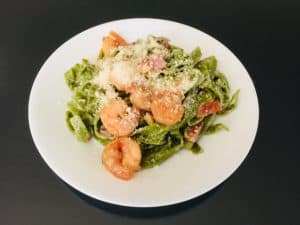 Recipe Card v1.0
Ingredients
12 oz (341 g) Spinach Fettuccine Noodles
15 oz (425 g) Alfredo Sauce
3 small onion shallots, chopped
5 cloves garlic, chopped
3 sliced spam, cut in cubes
1 piece bacon, cut in small pieces
3 tablespoons olive oil
1 pound shrimp headless
1 teaspoon grated parmesan cheese
Step-by-Step Directions
Preheat wok for 3 minutes using medium high heat.
Put olive oil, heat for 2 minutes.
Add onion shallots and garlic then saute.
Add shrimp, bacon, and spam, cook for 5 minutes.
Add Alfredo sauce.
In a separate casserole, boil noodles for 3 minutes.
Drain water then put noodles in a wok with a sauce.
Gently stir noodles and sauce.
Topped with grated Parmesan cheese.
Serve hot.